Award-winning design, powered by true insights
Breaking new ground. In an industry where male product designers far outnumber their female counterparts, we feel proud and honored to have won the 2021 Red Dot Award for Product Design with an international team led by innovative women from diverse backgrounds.

At Meyer we truly believe in the power of thoughtful, insight-driven design. It is our mission to bring our passion for good food and good design to tables around the world.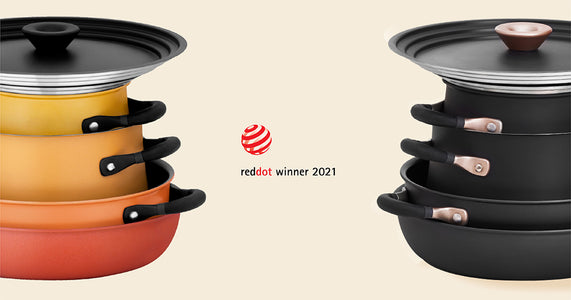 A unique, mixed-material collection of cooking essentials
Meet our magnum opus. The team at Meyer Labs poured our hearts into creating this stunning cookware collection. With a rare mix of nonstick and stainless steel pieces, and full of delightful design surprises like our signature universal lid, our Accent Series was meticulously crafted to be as high-performing, useful, and gosh-darn handsome as possible.
Everyday tools, enhanced for everyday cooking
There should never be drama when you stir the pot! Here's your next collection of go-to cooking tools, designed to work hard and look good. Each piece comes with a melt-resistant tool head and a stainless steel stopper feature to protect against scorching along the handle and ensuring your utensils stay functional and presentable at all times.
What sets Meyer apart?
Designed by food nerds

We are obsessed with food, and we use that passion as a guiding star for every decision in our design process.

Powered by insights

We travel the world to cook with people in their home kitchens, on the hunt for strokes of insight that will inspire our product designs.

Brains and beauty

You no longer have to choose. Our cookware is fiercely practical as well as downright gorgeous.
Step into our kitchen
Join us behind the scenes for design stories, cooking tutorials, and more.
Be inspired
Like what you see?
Follow us on Instagram! We've got so much more to share